It is amazing how I am in a meeting and get asked if all this online technology hype is worth it and I'm like for crying out loud we're in 2016. If you're still not leveraging on the power of the web then you're heading in the wrong direction fast. Recent mobile data reports point to an ever increasing amount of data consumption on the web. People all over the world are consuming streamed audio data in their terabytes per month and that is just one of the many data consuming activities they are involved in. Websites without social media plug-ins are now obsolete, as to reach out to the world one is required to be where the target audience is most active and it is a proven fact that they are, on social media.
The prevalence of 3G+ networks is driving this coupled, with mobile devices increasing capability, giving the everyday mobile user power to consume content anywhere anytime.
Let's use a 3rd world country like Nigeria who ranks 7th in the world for internet connectedness which represents over 40% of the population of over 160 million. This means an individual or organisation that runs internet based services theoretically has a market of over 65 million in size to grow into. Facebook has 16 million according to recent reports.
So therefore, it's within the realms of possibility to grow a large following. For a content creator in the audio and video space it is important to deploy a solution that makes it easy to leverage on the power of social media to connect, interact and grow their audience.
Prostream helps in this regard, it has a rich web and mobile application solutions that makes content distribution easy through its social media ready design and provides a seamless production to distribution solution.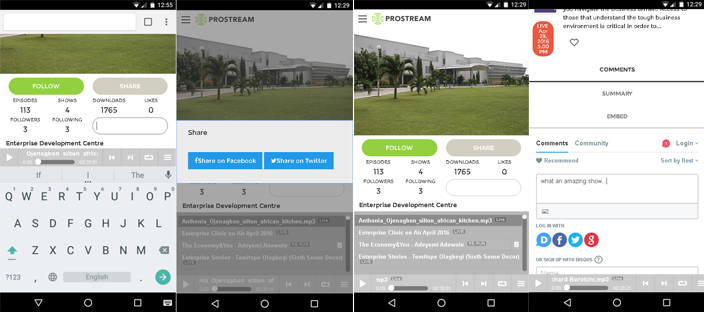 The dedicated mobile app provides a way for content creators to be in the hands of their audience

The app easily interacts with Facebook and Twitter on mobile devices to share what is being listened to, generating more traffic to the station.

The player is shareable on social media platforms which increases virality.

Also, the player can be embedded into websites so that users don't have to leave point of contact and keeps the website active.
A convener no longer has to worry about burning CDs after an event for the audience to relive their experience. Prostream can stream live events, record ongoing events, auto-schedule existing media content and make content available for download seconds after the event comes to an end. Prostream simplifies the whole process so that content creators can focus on creatives.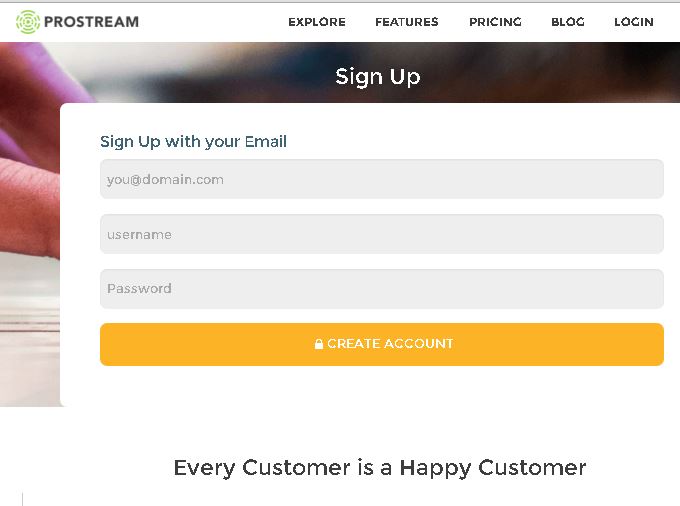 The signup process is easy too.
You can set up your station in minutes. If you're involved in media production and looking for an easy way to stream your content then you should definitely give Prostream a try.